Taps

Our Condolences to Their Families...
Editor: Please forgive the inconsistent Taps information – we no longer have access to Paraglide like we used to and rely upon family obituaries now more than ever.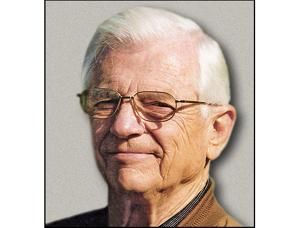 George M. Cockle – G Co, 325 Apr 7, 1920 - Apr 4, 2015. Lt. Cockle was Executive Officer of G Co, 2nd Bt, 325. George was preceded in death by his wife, Barbara; sister, Marianna Woodward and brother, John Cockle. He is survived by his wife, Janet B. Cockle; children, Cindy Cockle, Trish Billotte, Andy (Mary Helen) Cockle; and six grandchildren and two great-grandchildren.
Editor: There is a newspaper article and letter sent in by George's daughter Cindy in this edition as well.

Linoski, Leo - Regimental Headquarters Co., 325th GIR passed away 6/27/15 at his daughter's in Phoenix AZ. Leo's wife Maurine died 7/11/10 and they had lived in Gary, IN. He is survived by his daughter and son-in-law: Sandy & Steve Pirtle, 4540 N. 14th Ave., Phoenix, AZ 85013.
Editor: Bob and Carol Bridge supplied the above information and I tried to call Sandy to get more information on Leo but was unable to reach her – I am writing to her and will post whatever she sends me in a future Tow Line.
Nelson, Raymond L. - passed away on Saturday, May 2, 2015 after a brief illness. Ray was born on September 2, 1916, in the Town of Hale, Trempeleau County on the family farm which has now been in the Nelson family for 100 years. He was the 9th of 13 children born to Julius and Mathilda (Swenson) Nelson. Ray was the first child born on the farm, and the last of the 13 children to pass away. Ray married Marjorie Jacobson on December 10, 1949 in Our Savior's Lutheran Church, Beloit, WI. She predeceased him on March 9, 2013.
A highly decorated veteran of WWII, Ray earned the Silver Star, Bronze Star, and the Purple Heart. 1st Sgt. Raymond, just before D-Day, was transferred from the 101st Airborne to the 325 Glider Infantry Regiment, 82nd Airborne. During the Normandy invasion, he and his men landed in a British Horsa Glider and fought in one of WWII's most fierce battles at LaFiere, saving 100s of Paratroopers who were cut off. He went into the airborne invasion of Holland in a WACO Glider. When his Captain was killed, Ray led the company through terrible combat and was wounded. He was a recipient of the French Medal of Honor for his participation in securing that nation's freedom. In 2011, Ray and his brother Walter were honored to be a part of Vets Roll; they were truly part of the greatest generation who lived thru the Great Depression and WWII.
Last June Ray received the Wisconsin Veteran's Lifetime Achievement award at a D Day +70 celebration at the Wisconsin State Capitol. As the keynote speaker and without using any type of notes, Ray gave a truly memorable speech and shared some of his experiences from WWII. Ray was employed as a machinist at Fairbanks Morse for 43 years. He was a member of Our Savior's Lutheran Church and the Beloit Ski Club. Ray ski jumped in meets all over the Midwest before the war and won the US B Class championship in 1942. He enjoyed telling engaging stories, keeping up on the news, gardening, and was an avid Green Bay Packer, Badger, and Yankees fan. Ray loved baseball and after the war, was one of a few soldiers asked to stay and play exhibition ball.
Ray is survived by and was a loving and devoted father to: Marilyn (Daniel) Seidl, Nancy (James) Wuthrich, Pamela (Blane) Woodard and Rick (Gina) Nelson; proud and loving grandfather to six grandchildren and nine great-grandchildren. He also leaves behind a brother and sister-in-law as well as many loving nieces and nephews.
Ray was preceded in death by his parents, brothers and sisters.
Ray was an amazing father, grandfather, and humble man who loved his country, his family and had a strong faith. He loved life and lived it to the fullest. "You are our hero and will never be forgotten". His family, friends and 82nd Airborne All American Brothers will remember him forever.
Hughes, Sheldon W. – C Co, 325 GIR, passed away April 10, 2015. Sheldon Ward Hughes was born on August 8, 1923 in Cleveland, OH to Sheldon and Florence Hughes. Ward earned a BS in Forestry from Pennsylvania State University in 1948 and pursued Masters Studies at Yale.
A WWII veteran, Ward served in the 82nd Airborne Division, Company C, 325th GIR from August, 1944 to January 1946. He was a Purple Heart recipient. He married Theo Virginia Smith in 1960 and they had two sons, David Ward Hughes and Thomas Daniel Hughes. They were married 53 years. Ward was owner of Ward Hughes Company, a food brokerage firm which was founded in 1968. He remained active in the business until 2004. Ward was a longtime member of Lovers Lane United Methodist Church in Dallas, Texas. In addition to his wife and two sons he is survived by two daughters-in-law and 5 grandchildren.
If you hear of any other fellow 325 vets or spouses who have passed, please pass whatever information you have along so we can keep our membership updated. Thank you!

Letters from our friends...
As indicated in Taps, our first letter is from Cindy Cockle:
May 1, 215
Dear Mr. Erny,
My dad, George Cockle, was a member of the 325th Glider Infantry Regiment and received The Glider Tow Line for many years. I am saddened to tell you that he passed away on April 4, 2015. Enclosed is a copy of his obituary and an article that was printed in our local newspaper on the morning of his funeral a week later. I know you pass this information on to your readers and I appreciate that very much.
I am sending a copy of all of this to Mr. Jesse Oxendine as well, since I have been in contact with him in the past.
My brother, Andy and sister, Trish and I would love to continue receiving The Glider Tow Line if possible. It could continue to be sent to the same address as always. Thank you very much!
Sincerely,
Cindy Cockle

Our second letter was originally sent to Jesse who forwarded it to me:
Dear Jesse or Rick or other 325 members,
Greetings and thanks for a very interesting issue (Spring, 2015) of "The Glider Tow Line."
Your subscription reminder was taken to heart. Enclosed is my renewal check for $20. Please note my new address.
Thank you for assisting younger relatives find information on their kin. Many years ago you helped me in the same way, as I sought data on my father 1st Lt. Julius C. Caldara. Because of that connection I attended the 325 reunion tour to Europe on the 50th anniversary of D-Day.
Time passes, but our legacies will aid those who follow. Rest assured that your preservation of history is a gift to future generations.
Thank you!
Anna Marie Caldara
21 N Third St.
Bangor, PA 18013
Editor: Thank you Anna - I only wish we could do more…

Remember our friend Mark Nagan? He's still researching on his Dad's participation in the 325:
Hi Rick,
Didn't realize you are still publishing the "Tow Line" until I went looking for a book, "Nobody Lives Forever" by Joel Baret!! Somehow, I got dropped from the e-mail list? Do you know how I can obtain the book, "Nobody Lives Forever"? Lee Travelstead (see following) had told me about it when it was just in French in 2011.
I can't remember if I had written about my January 2011 visit with Lee Travelstead from the 82nd Abn? Turns out he was the officer who chose our dad to be the Msgt of the Honor Guard in Berlin. Dad, Mark A Nagan was in the 325 GIR, AT Co, 82nd Abn, 3rd Bn (came from 101st).
Never did find anyone who knew our dad from the 325 GIR; just from the Honor Guard.
Say hello to Jesse for me.
Thank you,
Mark T Nagan 31 Grove Park Pl Bettendorf, IA 52722
1084 Grand Isle Dr Naples, FL 34108 (October through April)

And speaking of people looking for information on their relatives:
Hello,
I understand you post a newsletter on the 325 Glider Inf. I'm looking for any information on my Grandfather as far as the company's involvement in the Central Europe Campaign, what his medals meant, photos, etc. I do have a copy of his discharge papers and here is some info from it:
John Petyak, Pennsylvania, Serial No 33 879 022, Co B 325th Glider Inf Regt, Served from Nov 44 to Jan 46.
Battles: Go 33 & 40 wd 45 Central Europe
Decorations and Citations: Distinguished Unit Badge - Holland Lanyard - Belgium Croix de Guerre - European African Middle Eastern Campaign Medal with 1 Bronze Star - World War II Medal.
I've been in contact with Bob and Carole Bridge and he suggested I contact you to see if anyone has any info at all and they can email me.
Thank you...Karen Seymore - Email:tkseymore@yahoo.com
Address 7 Elm Circle, Cresson, PA 16630 - Phone if needed is 814-886-5752.


Sir,
My great uncle Henry Martin Carl, Jr was part of the 82nd Airborne Division, Glider Infantry. Would I assume he was part of the 325th? Or were there other glider units?
All I know for sure is that he was in the 82nd Airborne and a POW after his glider went down (obit says at Normandy, however his son states Holland). He was taken to Stalag 3c Alt Drewitz Brandenburg Prussia (now Poland). He was there for five months then liberated when Russians came in. Those stats tell me it would have been Operation Market Garden that he was captured "First Report" on POW form says 9-18-1944, "Last Report" 3-27-1944. OMG started Sept 17. So my assumption is that his son is correct and he was captured during OMG. Is there any way to find out more details about what happened? His serial number is 15112720. He was a Corporal. His parent unit was 0320. He was born Nov 21, 1916 KY. We don't know many additional details about his service.
After he returned, he never spoke much of his experiences in war, but my cousins tell me he wrote in a book during his detainment in the camp. I am working on getting a copy of that. I never knew one existed! Henry was a quiet, gentle soul. It must run in the family as my father was the same. He was a man of character, faith, loyal to work, community, family, God. it is an honor to research this part of his life.....thanks for any direction you can give us.
Lucy A. Cain

Lucy,
There were two primary glider regiments in World War II - the 325th with the 82nd AB and the 327th with the 101st AB. So if your great uncle was with the 82nd he was in the 325. I pulled my rosters for Normandy and could not find a Pvt. Henry M. Carl, but he could have easily been a replacement right after Normandy and then captured in Holland. I'll have to do more digging on OMG to see if there were many from the 325 captured. You'll have to give me a few days on that. Otherwise there's just not much I can tell you. I can put your inquiry into the next newsletter and see if any remaining vets remember him, but that's a long shot - there aren't many left and memories have faded. But I'll give it a try. So many of them were like your great uncle and my grandfather - their loss is irreplaceable. And we need them now more than ever - such qualities seem to be fading with those who bore them so well.
Thank you so much.....Uncle Henry was a Corporal when captured, most likely in Holland per his son and dates on POW form I found online. When reading about the Operation Market Garden I discovered another tidbit that confirmed this was his capture mission. The article stated that many gliders went down into areas unknown to be swarming with German troops. That's what dad always told me. "Henry's glider went down into enemy territory." Found out that Henry wrote "in a little book" during his camp detainment, per his son. Another son has this book (most likely one of the journals issued by the army in case of capture) and we hope to get a copy from him. It will be an honor to have that, not a pleasant read, but one of historical and personal value. Thank you for digging with us. I felt he was part of the 325th...thanks for clarifying between those two units!
Our son has been in the army reserves since 2005 and a veteran of Afghanistan. I am doing this to help preserve family military history. Several in our family have been at war through the generations. Need to get it all on paper so it doesn't get lost in time. In 2007 my sister was cleaning the old family farmhouse that belonged to my great grandparents/grandparents/father. She knocked over a little fabric footstool that belonged to my grandmother and its contents spilled out. We never knew it opened! Full of WWII letters from her two brothers to their mother! One was a cook in Patton's army, the other served in the navy on the USS TENNESSEE. Those letters were chock full of homesickness, just waiting to get a letter from home. So sad! They both survived the war as well. I was much younger when they passed and busy raising a family...if only I had them both back for one day so I could get their stories on paper now. So much history dies with our WWII veterans......each has their own fragment of the whole picture.
Lucy A. Cain

SUBMISSIONS
As promised our first submission is an article on George Cockle that was featured in the local newspaper the day of his funeral. It was submitted by his daughter Cindy:
Omahan George Cockle, a WWII vet, turned firm into a leading producer of U.S. Supreme Court law briefs
George Cockle's name may not ring bells in his hometown of Omaha, but he's well-known in another place that matters: the U.S. Supreme Court. In 1965, Cockle took over the legal-printing business started in 1923 by his parents, Albert and Eda, both lawyers, and transformed Cockle Printing into a leading producer of Supreme Court law briefs. Although not formally trained in the law, he worked closely with lawyers, and their clients, in the exacting work. "He was pretty open to people," son Andy Cockle said. "It didn't matter if you were one of the hotshot Washington attorneys or the mother of someone sitting on death row." Andy Cockle and sister Trish Billotte took over the company in the early 1990s, but George Cockle continued to work until he was 85. He died April 4, at age 94.
George Cockle was a quiet youngster who came out of his shell in part because of a wrestling program at Omaha Central High School in the 1930s. He moved on to the University of Nebraska, where he served in ROTC and lettered in wrestling and tennis.
George Cockle, University of Nebraska
After the start of World War II, Cockle was commissioned as an Army officer and assigned to the 325th Glider Infantry Company — as a punishment for being drunk on a field-training exercise, he would tell his children decades later. During 1943, Cockle's unit remained close to action in North Africa and Italy without actually getting into combat. Early the following year, though, they trained in Great Britain for the invasion of France. In a war memoir he wrote for his family 50 years later, he describes himself as "a devout coward" who would "keep my head ducked down a good deal of the time."
But Cockle's assignment demanded courage and resilience. His unit's slow-moving gliders were vulnerable to enemy fire and ground obstacles. He landed in Normandy on June 7, 1944, just one day after D-Day and spent the summer fighting in the gritty campaign that followed.
Later he participated in the disastrous Operation Market Garden, portrayed in the 1977 movie "A Bridge Too Far," and he was wounded in the Battle of the Bulge in January 1945.
The experience soured him on the military. He had bonded with the four other officers in his company before Normandy — and those officers would die in the first days of the campaign. Andy Cockle said the war caused his father pain that would last the rest of his life. He didn't discuss his experiences with his family for 50 years.
"He did everything he could to disconnect himself from the military," Andy Cockle said. "It was the trauma. He loved his guys. They were all his buddies, and they all died."
After the war, George Cockle ran a linotype machine for Cockle Printing and learned the business he would take over from his parents. He was active in the Omaha Downtown Rotary Club and was a member of the Omaha YMCA for 81 years. He had married his college sweetheart, Barbara Hahn, before heading overseas. Back home, Cockle immersed himself in the activities of his three children. "It didn't matter if it was cheerleading or handball or wrestling, he was always there," Andy Cockle said.
Barbara Cockle died in 1999, but four years later George was remarried, to Janet Burkley. She survives him, as do his three children, Cindy Cockle, Trish Billotte and Andy Cockle, all of Omaha; six grandchildren; and two great-grandchildren.

In addition to written requests on information sometimes the requests are for actual personal appearances. George Fisanich recently received just such a request. He writes:
From time to time members of our association receive questions concerning the military exploits or deaths of former members of the 325th Glider Infantry Regiment. In mid-January I received such a request and an invitation to attend the 70th anniversary of the death of 19 year old gliderman Clarence R Wisotzkey of nearby Littlestown, PA. The invitation included a photograph of this veteran in complete combat gear and another of his tombstone taken at a military cemetery in Belgium.
19 year old Clarence Wistzkey
I did attend the solemn and honorific affair on January 30 together with approximately 60 others, mostly men, associated with the America Legion or Veterans of Foreign Wars and members of the deceased family or friends.
The ceremony of this patriotic undertaking consisted of a flag folding demonstration and presentation to a member of the deceased's family and a couple of short speeches. I was asked to say a few words about the exploit of glider forces in WW II. Their knowledge of such operations was nearly nil so I apparently provided them with some enlightenment of those actions.
Clarence Wisotzkey's marker back in Belgium
Based upon the date of Pvt. Wisotzkey's death, January 1945, the regiment was apparently involved in attacks on the German Seigfreid Line – attacks that began shortly after the unit was involved in opposing German forces during the Battle of the Bulge.
Rest in Peace, Clarence – you are not forgotten!
George Fisanich "C" Company, 325th Glider Infantry Regiment

Editor: In the Spring issue I told you Tom Judson sent in his father David Judson's wartime experiences. David Judson was born in Akron, Ohio. He joined the Army in 1942 and served in the 82nd Airborne Division. Here they are:
From Italy to D-Day
Long before Italy, I started the hard part of the war in North Africa. It was 1943, and we landed in Casablanca and rode boxcars across Morocco. We trained at Oujda
where it was hotter than hell; it got up to 130 degrees. We flew to Tunisia from where we were to go into Sicily by glider, but things got fouled up for the paratroopers, and they sent us onto the beach in LCI's (Landing Craft Infantry). We went up this mountain near Foggia with
Mount Vesuvius behind us all in smoke, and for a month we climbed and we fired into the valleys where the Germans were.
David Judson - waht a classic photo!
Now I was part of the 82nd Airborne Division, but in truth there was no place in Italy to be airborne, and that parachute drop in Sicily was a failure, so I wasn't really airborne until we got into Normandy. But after Normandy, it was full-blown airborne.
Yella Jaundice
While we were in Naples, there was this fever going around called yellow jaundice, which was hepatitis, but they called it yellow jaundice because your body turned yellow, and your eyeballs turned yellow and as soon asyou get to where your eyeballs are yellow, they put you in the hospital. Up until then, they don't do anything to you; you just live with it. I was in the hospital with the yellow jaundice, sick, and couldn't eat. When I got there, they said, "Oh yeah, you've got it all right," and they assigned me to a bed.
So, I was in there for a while, sick, and the company commander came around one day and he says, "We're leavin'," and I said, "Well, I can't be leaving," and he says, "You wanna go with us?" and I said, "Yeah, I think I do." I felt sick, but I didn't want to go with anybody else. I would go with them. So he said, "Fine, we'll come around tomorrow with a jeep outside the hospital. You get in your clothes, and you just walk out the front door, and we'll drive down to the boat and go." So I said, "Alright." I couldn't be any sicker than I was anyway, and I was thinking about the sea-sickness I'd had and how I told myself how I'd never get on a boat again. But the only way I was gonna get out of there was on this boat. So that's the way we went, all the way from Naples to North Ireland in a boat.
Winter in the UK
We spent a good part of the winter at North Ireland in preparation for Normandy. It was nice because before you couldn't get anything decent to drink in the desert or in Italy. When you get to Ireland, you had Guinness! How about that? I was thinking, "What kind of war is this?" You never stop training. They try to wear you down. They never let up on you, and I finally decided it was a good idea. They want to try to turn you into an animal, because that's the way you're going to be treated from now on. You're gonna be out there in the land staying alive and killing the enemy. There's no choice, that's the whole life, and there's nothing else to think about. Stay alive, kill the enemy and hopefully, you'll get out of that. That was what I was thinking about going into Normandy.
Normandy
We had two glider pilots and we went in from the South part of England somewhere, and the paratroopers were already in there the night before. When we got in to land — a daylight landing, of course — we were supposed to land in these fields which weren't very big. They were old, old French farms, and they're not big, but they looked like a football field in size. So, we got ready to land and I'm looking down there, and see there's already six gliders landing, I'm thinking, "Wait a minute, there's no room for us!" However, we were going in there anyway, and we made the landing. Man, we were boring down toward those gliders and I thought we were going to smash into them! Then he'd take a sharp left turn this way, and we'd be all right — might have tore up the glider a little bit, but we got in all right.
We were there for a month, and every minute — not at night, in the daytime — every minute was assault, assault, assault. That's what we were there for. The perimeters around Sainte Mere Eglise, the Germans were everywhere, so you just do what you're told, get your guns set or get killed. Three solid weeks of that and the only time we were in reserve, I think, was for about twenty minutes. They told us to go back for a reserve about a week or so after that.
Did I Kill Anybody?
Then it was a little different; nowadays you get to sleep at night. Then, you got to rest for a little while, and the Germans do too; they're probably glad for it, but you still have to be on guard duty, so you sleep for about two hours and then patrol the grounds. So you're ready to go the next day and the standard approach was to get going at 6 o'clock; twenty minutes of artillery is going to blast them away. So, we start blasting them away for twenty minutes, and it just pours down on this German line; you wonder if there's anybody alive. Twenty minutes goes by and you get ready to go when back comes the artillery, back comes the gunners and you wonder, "Did I kill anybody?" That's the way it goes for the rest of the day, you're just ducking and dodging and hoping you don't get hit.
Until the regular troops that came onto the beach catch up to us, you're out there on your own for one or two weeks. Then you can get supplies and the stuff you need, and go. You're in there behind the lines; in Normandy we were about 35 miles behind the lines; in Holland we were about 70 miles behind the lines. The 82nd Airborne went into Nijmegen, the 101st Airborne went into Eindhoven and the British 1st Airborne went in Arnhem. So we each had bridges we were supposed to take so that the British and American were supposed to meet up, but it didn't really happen so we all had to pull back.
"That's Just the Way Your Mind Works!"
Here's one thing that happened. This gunner and I were up there firing with a mortar and with a machine gun, and he's up there firing and I went up to be with him cause I was going to fire mortars on the same strong point. Well we're firing away and all of a sudden, I look at him and he's got this blood running out of his cheek; he's been nicked by a bullet.
So he says, "Sergeant, give me your M1," my rifle, which I had and didn't need cause I'm firing the mortar. I said, "Here, take it," and he leaves the machine gun and takes my M1 and he fires off the whole clip! I thought, "You're firing a machine gun and you want my M1 so you can fire back a few more rounds of 30-caliber?" I didn't ask any questions; he gave it back to me and I just put in a new clip, and we went back to the machine gun and the mortar, and I thought, "I don't think I'm ever going to figure that one out!" And that's just the way your mind works! He's so ticked-off that somebody shot him, even though it wasn't bad enough to take him out of action.
By David Judson
November 9, 2011

Editor: The following is based upon a very long article in the May 25, 2015 Washington Post newspaper written by Ian Shapira. George Fisanich noticed it and sent it first to Jesse Oxendine for commentary and then to me with a note to add to it as I wished. Although you might recall we've run an article on this practice in the past, I agree with George that it is worth noting again:
THE DUTCH EXPRESS THEIR THANKFULNESS
The American Battle Monuments Commission is the federal agency that oversees the 25 official US cemeteries overseas. This includes the responsibility for cutting grass or cleaning the grave's marble tombstones and general cleanup. In various countries local citizens periodically visit a cemetery and place flowers on certain headstones. Nowhere else has this process been developed to a clear science as is accomplished in the Netherlands, particularly at the cemetery at Margraten.
In connection with Operation Market-Garden, the ill-fated operation to secure strategic Dutch bridges crossing into Germany and some other operations elsewhere, the US military needed a place to bury its fallen. A fruit orchard
outside of this village was selected and between late 1944 and the spring of 1945 up to 500 bodies arrived for burial each day. At the end of the year about 17,740 GIs would be buried at Margraten. So many each day that the mayor often asked local citizens to assist in the grave diggings.
Close-up of main gate at Margraten
Currently there are 8,301 American GI's buried at Margraten, along with tablets which list the names of 1,722 soldiers who are considered "missing." Rosettes mark the names of those soldiers since recovered and identified. Among the 8,301 who rest there are 69 members of the 325th Glider Infantry Regiment who made the ultimate sacrifice for freedom.
Beginning with the first Memorial Day in 1945 and continuing to this very day, local citizens visit the cemetery and conduct religious and patriotic ceremonies over the tombstones. The turnout for these events is remarkable! Flowers and wreaths are placed on most markers by volunteers – one or more families per grave. Every grave has a sponsor and there is a waiting list for future assignments! This "adoption" program was the brainchild of a local town official and a pastor in the Dutch way of saying "Thank You."
Among the 325 graves which have been adopted is Tech5 Michael F. Matysak, adopted by Danny ter Horst, as well as PFC Leonard E. Leake, adopted by Dennis & Gerda Hermsen and S. Sgt, Charles G. Ticknor, adopted by Leon and Nicole. (Confession: I can't find Leon and Nicole's last name. I feel terrible. Especially so since they were the very first people from the Netherlands to contact me and tell me about adopting the grave of Sgt. Ticknor. But Nicole didn't stop there – she and her husband Leon personally went out and photographed ALL 69 graves of 325 members who rest at Margraten as well as the photo above.
Leon & Nicole at the grave of S.Sgt. Charles Ticknor
No other country in Europe or elsewhere is as dedicated in their response for obtaining their freedom in WWII. The Dutch have continually expressed their thankfulness for their liberation stating that after four dark years of occupation by the Nazis they could now go back to living normal lives. Their continued involvement in activities at the cemetery is one way to show their appreciation for the American operations. Individual visits are often conducted on the soldier's birthday, date of death, Memorial Day and Christmas.
You have read about the adoptions of 325 graves in past Tow Lines. It has been a true blessing to have such wonderful and dedicated people adopt and take care of members of the 325 who eternally rest in the Netherlands. 70 years after the war, the Dutch still show their gratitude and by doing so have likewise earned the enduring gratitude of the veterans and families of the 325 Glider Infantry Regiment.

Our last submission was actually sent in a long time ago by our good friend Lee Travelstead – he was going through some papers and found a copy of the Berlin edition of the "All American PARAGLIDE" wartime newspaper! Lee was very generous in sharing his with us and I've been meaning to feature it for some time now – and decided it was perfect to wrap-up this summer edition of the Tow Line. Although really to do the scans justice I'd have to devote an entire page to each of them and that doesn't include the inside spread featuring pages 2 and 3! Still, here they are - do you still have your copy at home??
Front
Back
Editor's Last Word: We have been very fortunate to have plenty of material for our newsletters here of late. Of course we will continue Lew's story in our next issue – he wrote it all down from start to finish and I want you to have a chance to read it all. Also we still have Earl Moore's memories of his wartime service sent in to us by his son Michael, as well as Frank Plebanek's wartime experiences. If you send it, I'll use it so PLEASE - keep sending me your stories and photos!! Until then - as always - THANKS FOR READING!
